Below are two of the regular activities of the Iowa City Baha'i community, all of which are open to anyone who may be interested.  Please feel free to contact us if you'd like to explore or participate!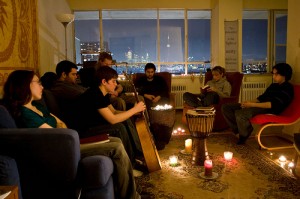 Devotional Gatherings All are welcome to participate in building a vibrant community life in their neighborhoods by attending or hosting regular devotional gatherings. Small gatherings are often held in our homes, and there is currently a weekly interfaith devotional gathering on the University of Iowa campus.
The heart of a devotional meeting is the sharing of prayers and passages from Holy Scriptures, but beyond this there is no set form. Devotional meetings are a chance for us to learn how to create an uplifting, spiritual atmosphere, often involving music and the arts. The key is to help clear our minds from the anxieties of our daily lives and to meditate on our higher purpose.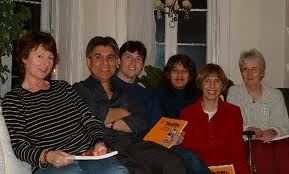 Study Circles The purpose of Bahá'í study circles is to provide participants with the knowledge, spiritual insights and skills to enable them to contribute to the betterment of society, starting with their own neighborhood. This is done through systematic study of a sequence of courses based on the Bahá'í Writings. They are held in an uplifting environment conducive to the spiritual empowerment of individuals, who come to see themselves as active agents of their own learning, and feature participatory learning, involving discussion with others, and the use of the arts.