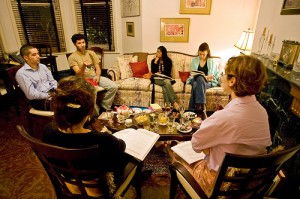 As one of the fundamental tenets of the Bahá'í Faith is the independent and unfettered investigation of truth for oneself, Bahá'ís do not engage in proselytizing, or trying to convince or convert others. However, Baha'is believe that Baha'u'llah's healing message offers specific and important answers to the diverse and grave problems facing humanity. So we are eager to share this message with those who express interest.
If you would like to learn more about the Bahá'í Faith, ask any questions, or just meet some of the Bahá'ís and their friends in the Iowa City area, we offer what we call a "fireside".  Firesides are small, intimate gatherings, usually held in one of our homes or a suitable public space, to share the teachings of the Bahá'í Faith with those who wish to explore it.
Please feel free to ask where and when you may attend one!